This is the blog post I should have made last week!
Due to an unforeseen and totally annoying HUGE head cold (as rudely shared by passengers seated behind us in the airplane) T and I spent a miserable week (last) recovering and trying to sleep through most of it! (I am SO over air travel.)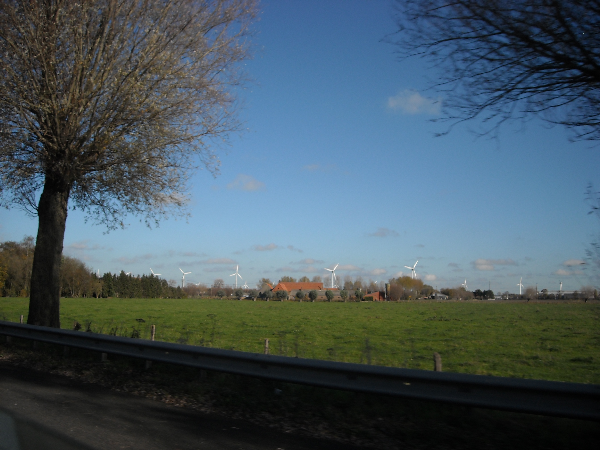 Flanders on the way to beach
T and I flew to Brussels for an long weekend last week (Depart Corfu 3 November; Return 7 November). It was long time overdue to catch up with my cousins and my 93 year old Aunt Marie-Louise, (my mother's elder and only sister).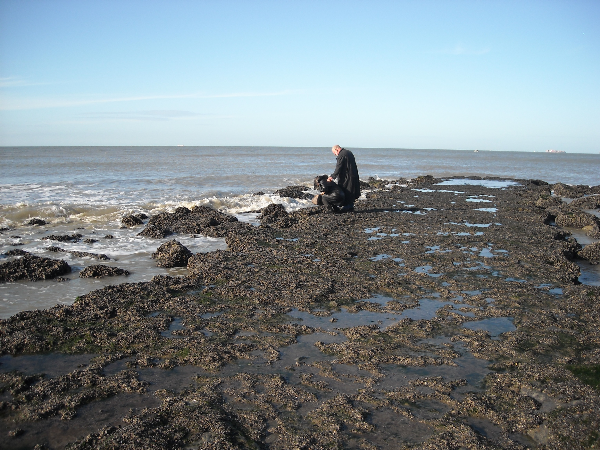 along the brislam
I also had a little "bit of my mother" that I wanted to leave in Belgium, preferably in the North Sea, which she loved, near her favorite childhood seaside resort, Blankenberge.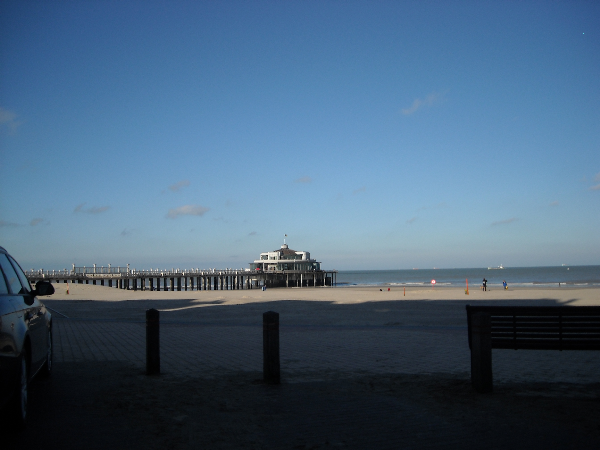 iconic pier in Blankenberge
Needless to say it was also a fine opportunity to savor Belgian cooking as well as catch up with the newest family addition baby Simon, born on the 29th of July while I was in the USA.
We had a surprisingly good time, with many shared and funny memories of our childhoods - my cousin and me from our first meeting when I was 5 and he was 8, through all the years in between.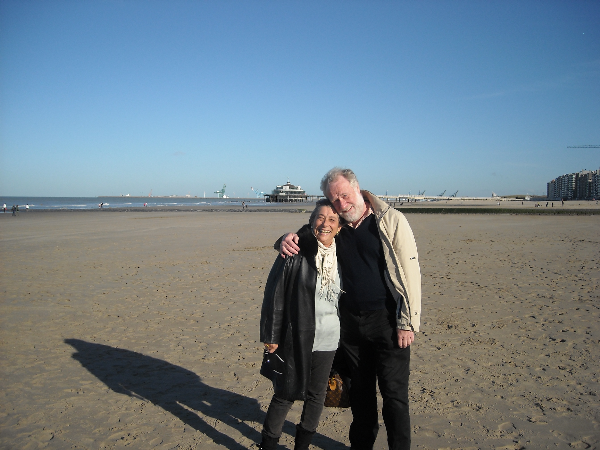 me and my cousin
After my father died in 1959, I would fly to Belgium every summer after the school term ended and spend the three months of summer vacation living in the brownstone in Anderlecht with my Grandmother and Grandfather, while my aunt and uncle and cousin lived in the apartment upstairs and another great-aunt lived on the top floor apartment.
My summer would pass spending my days waiting for my cousin, Ray to finish school so we could "play" (mostly we tried to understand eachother as I spent a great deal of time trying to figure out what everyone was saying- in French!), driving my grandmother crazy, and reading American novels left by my mother on previous trips, until I discovered the bookstore in the city that sold English books and blew through all my pocket money!
ON the weekends, we'd all of us, go to the local cafe, to meet with friends and more distant family members,, and my cousin and I would play cards or as we got older, go to the movies.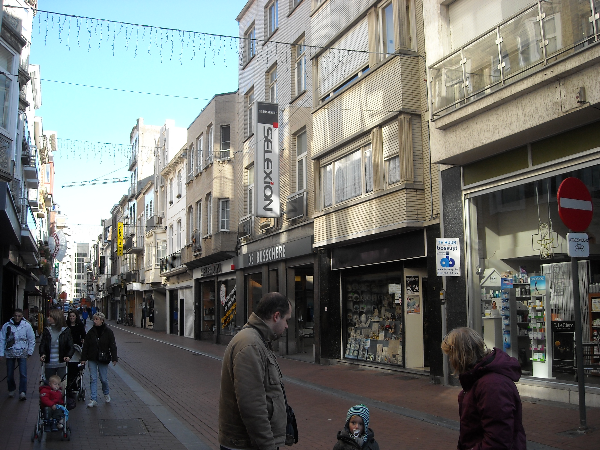 one of the three apartments I remember
Some time over the weekend, usually Sunday, my aunt and uncle would take my cousin and me for an educational drive, to see the sights of Belgium, and of course have a good meal along the way!
Always for the month of August the family would rent an apartment in Blankenberge and every day would be spent "taking the air" bathing in the sea, and enjoying the seaside atmosphere.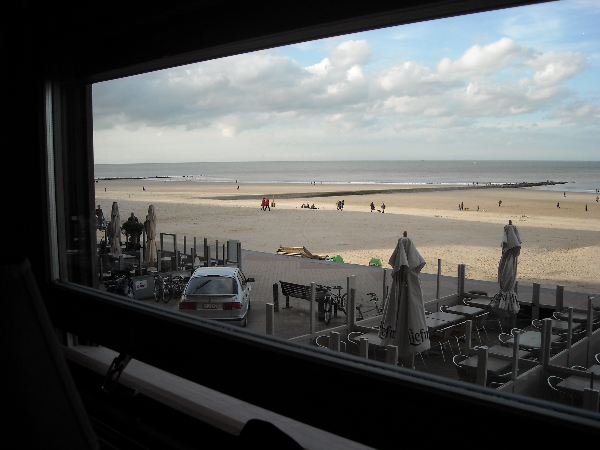 lovely view to eat by!
In the great tradition of "all that came before", we had a great lunch in a super seaside restaurant built on the same (used to be a bit more humble) spot.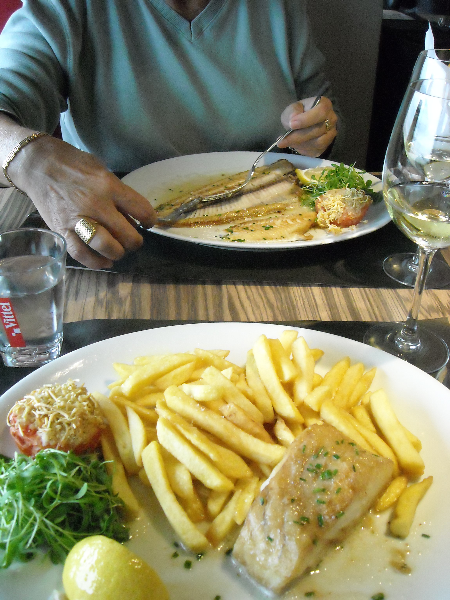 oh the yum...
Of course we had to have fish and I had to have Sole Meuniere with Frites.
T had cabillaud (fresh cod) with a marvelous and very traditional Belgian butter and cream sauce. (yes the arteries groan, but the taste is putting you at the gate of heaven!)
After lunch we had to walk a bit and wandered to the opposite side of the beach away from the pier to the channel that goes to the port.
no more fishing boats
There were more childhood memories, of my cousin and I getting up early to meet the fishing boats and talking the fisherman into sharing a couple of freshly cooked crabs wrapped in newspapers. (they'd boil them in a big pot, right in the boat for their fisherman's breakfast!)
Now there are almost no more fishing boats, just luxury yachts and power boats.
Still lovely but not the same.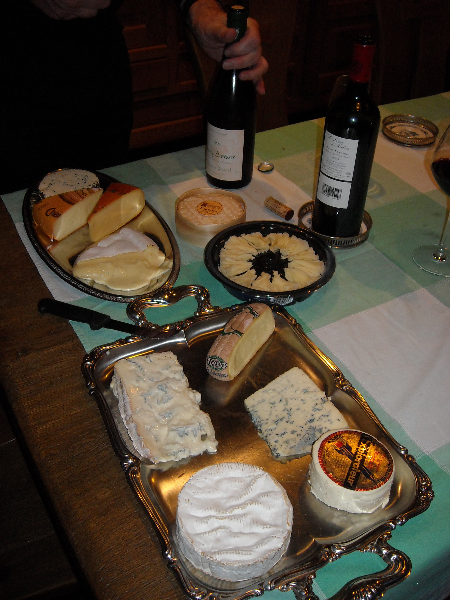 the cheeses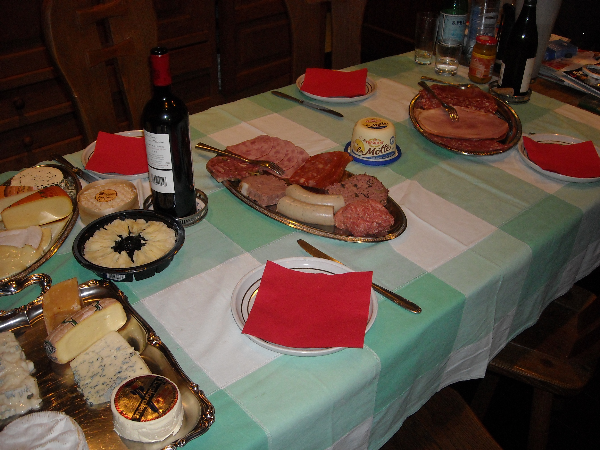 the charcuterie
We came home to my cousins house, just in time to sit down for another, simpler, but amazingly delicious meal then went back (groaning) to our little hotel.
We stayed at the quirky little Hotel Centrum in Beersel .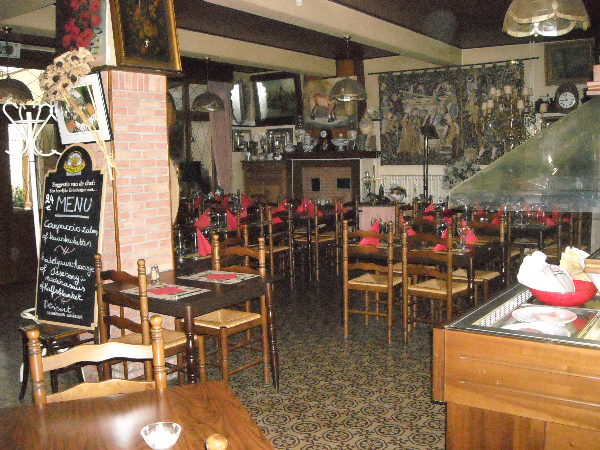 the breakfast room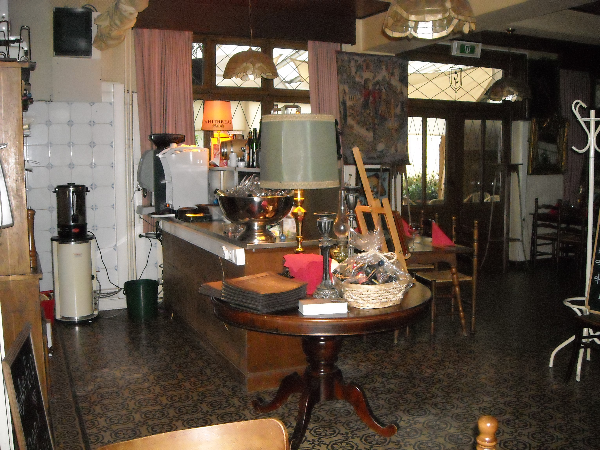 the coffee tea corner
It's a very odd little place, but it was clean enough, the room was big and we had a small ensuite bathroom. Breakfast was OK and the coffee was freshly made and my tea was hot. Best of all, it was close (5 minutes!) to my cousins house.
The rest of the weekend passed in a haze of exchanging wonderful memories, eating excellent food and all the while with a warm family all around. (Oh. And there was wine. I didn't talk about the wine and it was delicious and plentiful. Did I mention the wine? My liver is still recovering.)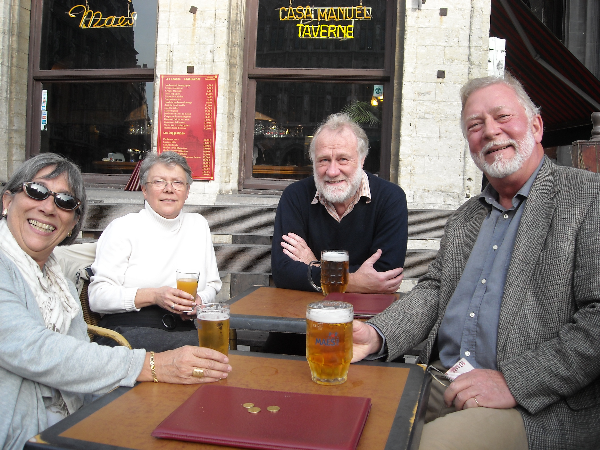 taking in La Grand-Place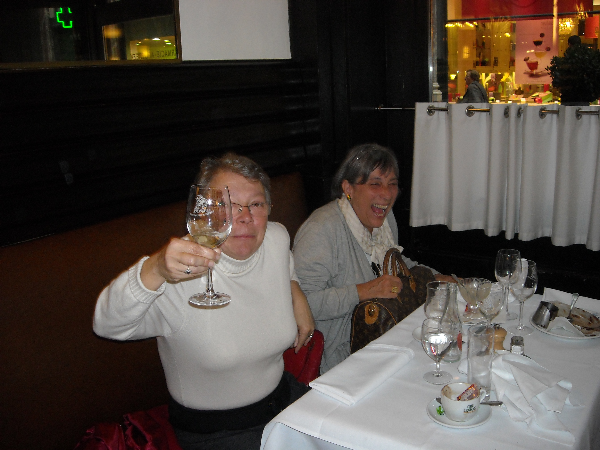 Taverne du Passage
We went into the city on Saturday, and shopped a bit and had a beer on the Grand Place then went on to a classic and favorite restaurant Taverne du Passage, in the Galeries Royales St Hubert.
There we again ate and drank marvelously (but we were having such a good time I forgot to take pictures!) served by excellent and long time waiters. I had a simple Steak-Frites and it was amazing. T had a Sole, my cousins had Choucroute, an Alsatian dish of Sauerkraut, sausages and ham, made with a Belgian twist.
Sunday we had a big family gathering and my cousin Maryse prepared a wonderful Carbonnade - a great Belgian Beef and Beer stew. (which I make several times every winter!) We finished it off with delicacies from the bakery... After which, I almost fell asleep in my coffee!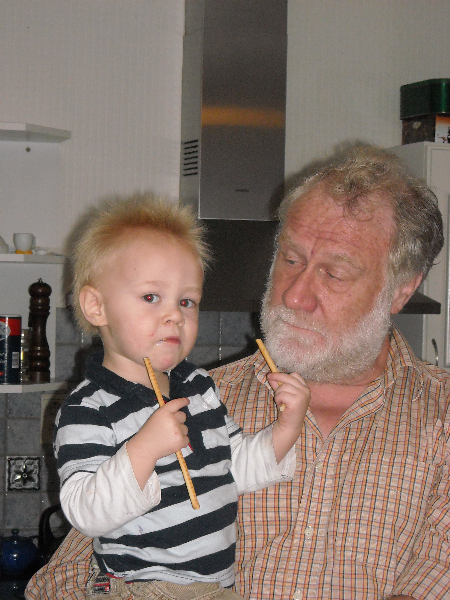 Ray and Arsène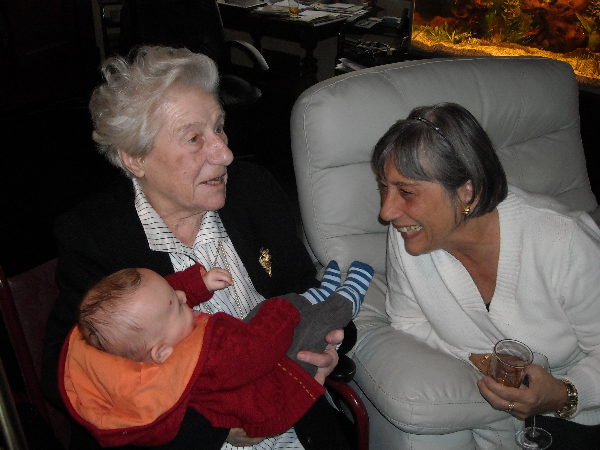 my aunt and Simon (& me)
Benoit, Jenny and Melissa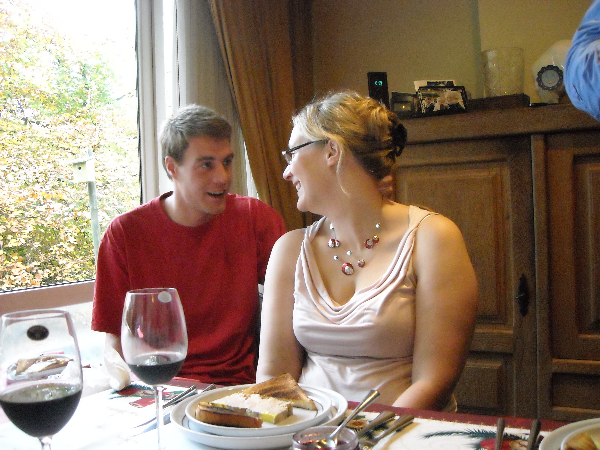 Jeremy and Jenny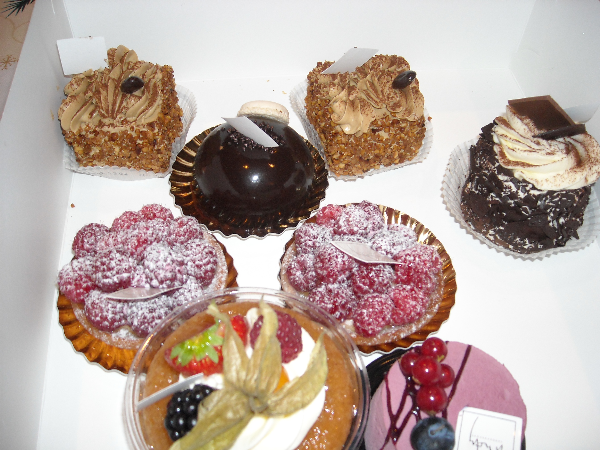 La Dessert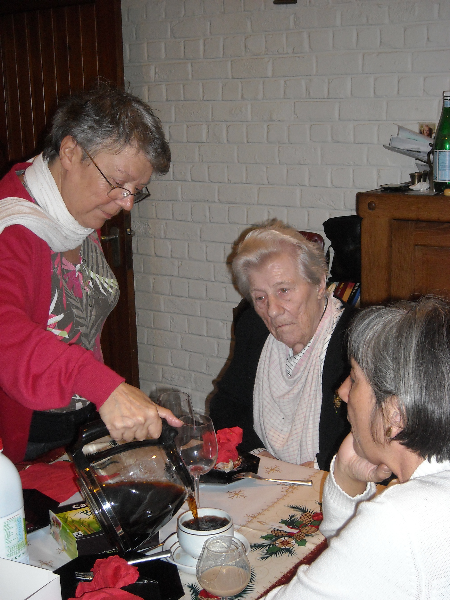 wherein I almost fell asleep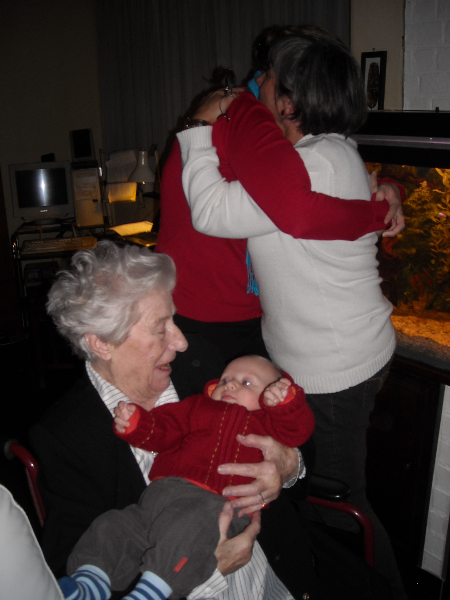 saying au revior
We flew out of Brussels at around noon and were home again in Corfu by 7 pm.
Then we got sick and went to bed for a few days and didn't remember to call my granddaughter on her birthday on Tuesday.
Again, with the belated birthday greetings!!! Happy 23!
In the end, that's why this post is a week late! (clicking on the pictures should make them larger)
So until the next peripatetic post... ta!